This course will take an experimental and playful approach to going deeper with encaustic paint. Drawing exercises will feed into an wide exploration of tools and techniques for additive and subtractive (intaglio, intarsia and impressing) mark making, working with paint, R&F pigment sticks and other compatible media. We will build history and optical depth through a combination of mark making, layering and scraping. We will harness translucency; opacity; building up and breaking down layers to create a complex visual vocabulary.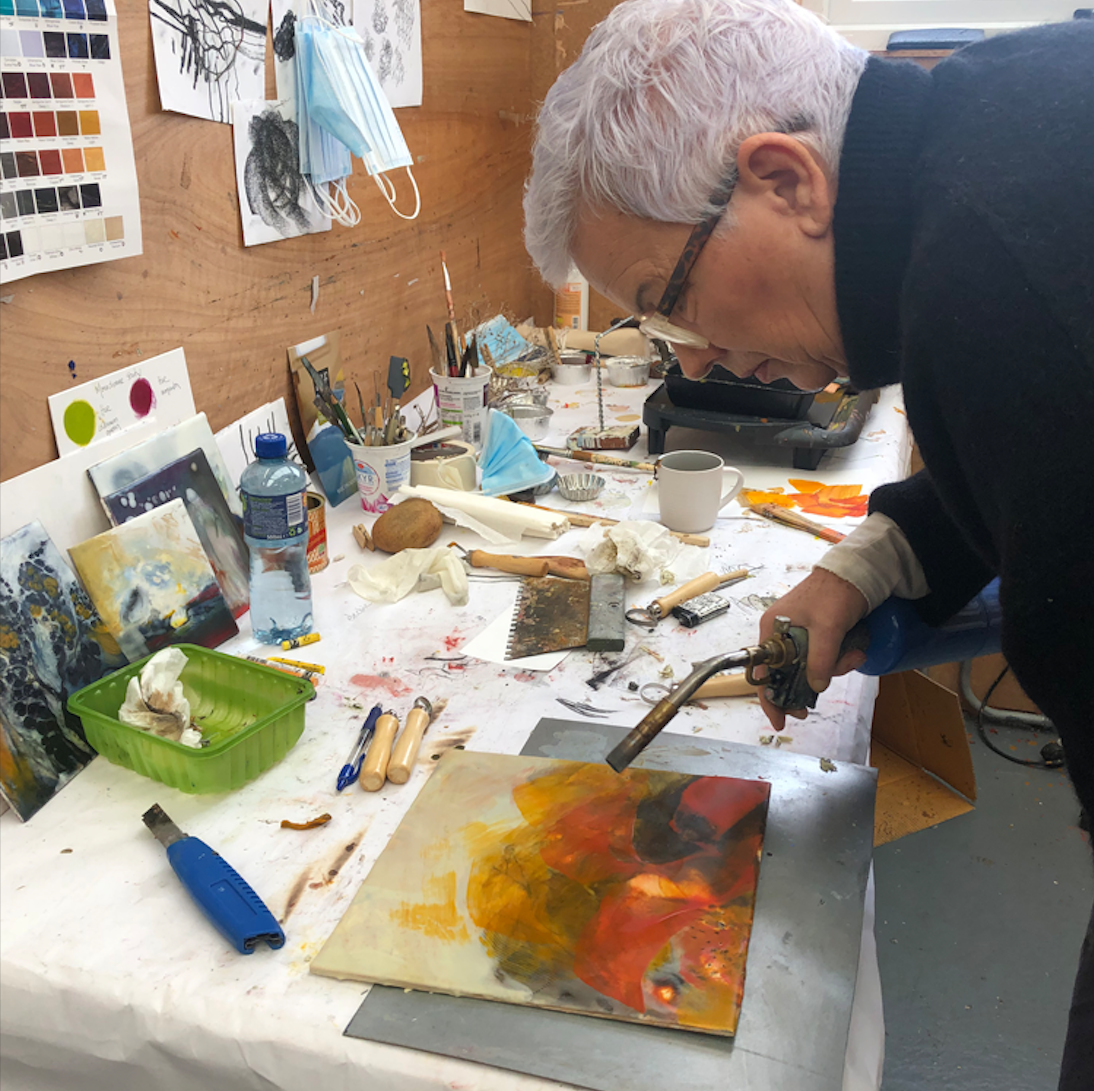 The elements and principles of art will be revised via theory and practice. We will explore methodologies for accessing the 'open mode' in the studio- working with playfulness, chance and improvisation. And practices for honing critical thinking and reflection skills.
The purpose of the class is to discover a variety of processes and approaches to expand and fine-tune your own unique visual language with encaustic paint and to nurture a playful and intuitive approach in the studio. We will look at slideshows of other artists work to support the explored ideas and methods. There will be individual support and group reviews. There will be 'homework' to do in between classes. 
In this class you will:

Develop your visual voice through practising instinct and reasoning. 
Learn through theory and practice (experimenting, recording findings, problem solving through trial, error and reflection) to integrate the knowledge. 
Loosen up; develop working intuitively and access the open mode.
Refresh the fundamental elements and principles of art and develop reflection and critical thinking skills.
Be supported in digesting your learnings and determining how best to move forward through the one to one session after the course.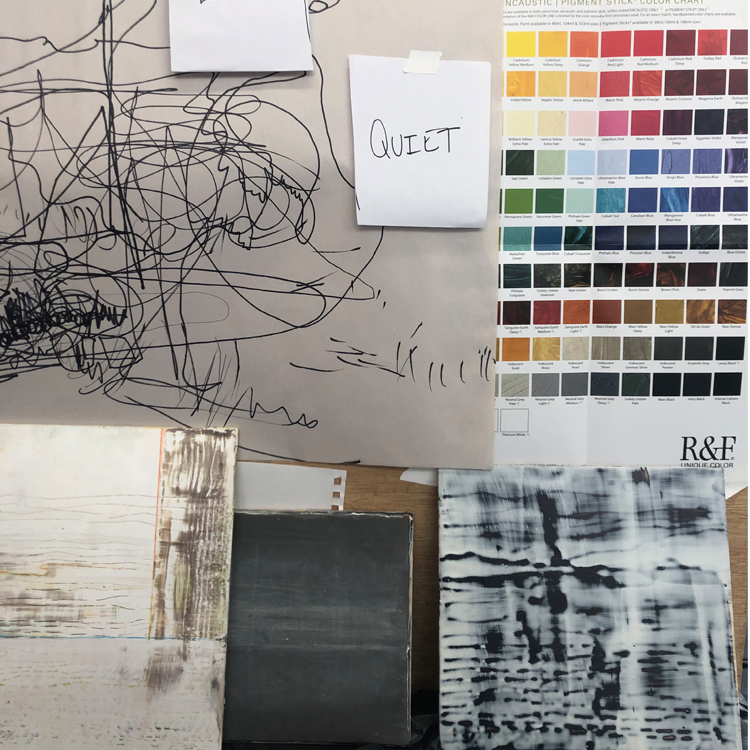 "My teaching style, based on professional experience, nurtures the creative mind and each student's relationship to personal vision. I focus on facilitating a deeper relationship to both materials and ideas. I encourage an experimental and intuitive approach to materiality, and the use of drawing for recording and transforming experience, and also as a way into subtracting paint. Originating from my own studio practice, I have developed a teaching pedagogy which combines open experimentation; exercises that feed into the exploration of specific techniques/ideas; a building block approach towards end findings and reflection practices to assimilate the learnings." - Joanna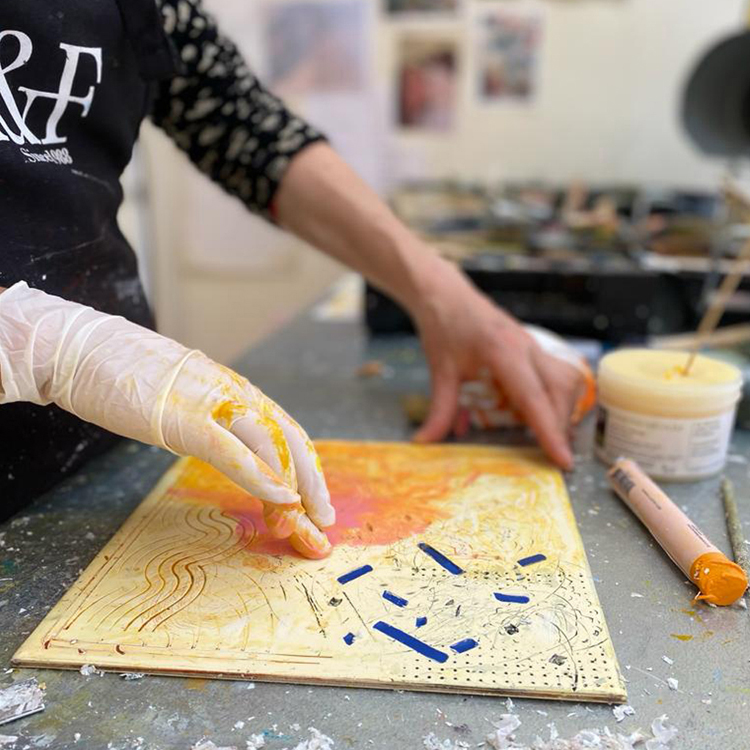 Features of the course:

Zoom class - LIVE online
5 classes, 3 hours each
Some pre-recorded demos, some LIVE.
A lot of one to one directive support
Handouts
Slideshows
Group critique
Light homework between classes to develop, digest, reflect

FAQs:
Q: Who is this course for?
A: This class is suitable for painters with varying levels of experience. Some experience with encaustic painting is necessary.
Q: I have more questions. How do I reach you?
A: Email me at [email protected]

About Joanna
Joanna Kidney is an Irish visual artist. Her practice considers the sensory, temporal, interconnected and holistic aspects of being human. Using a language of abstraction, her work is an enquiry of the mark and the line through drawing, painting and physical space.
She has taught in Ireland and Internationally in Colleges in the USA, The Netherlands and the International Encaustic Conference, USA. Her Encaustic Painting Workshops are supported by R&F Handmade Paints, USA. She has exhibited in Solo and Group Exhibtions in France, Germany, USA and Ireland. She is the recipient of a Cooper Foundation Grant (USA); Arts Council of Ireland and Wicklow County Council funding; a Royal Hibernian Academy Studio Award; a Ballinglen Arts Foundation Fellowship and a Dublin Institute of Technology Award of Excellence. International residencies include, Kiðjaberg, Iceland and Brigham Young University, Utah.